11 million people!
That's how many Americans go RV Camping every year, according to the 2022 KOA North American Camping Report.
While the rise in popularity might motivate you to get out there on the road and try RV camping for yourself, there are several critical things to consider before planning your trip.
This guide will help you prepare and enjoy your next RV trip!
First, if you don't own an RV, you need to decide whether you will rent or buy an RV.
Similarly, you have to determine your trip destination and plan your route for the best experience.
Why?
Because, unlike normal cars, RVs can be huge, so learning how to drive, navigate, and park your RV is extremely important.
What Is an RV?
An RV (recreational vehicle) is a towable or motorized camping trailer used for living while staying or traveling across various locations.
An RV can be a simple van with a bed, a small but functional pop-up trailer, or a double-wide Airstream with the luxurious comforts of a contemporary home.
Regardless of the shape and size, if you can sleep, boil water and cook in the vehicle, it's an RV.
---
---
Choosing Your Destination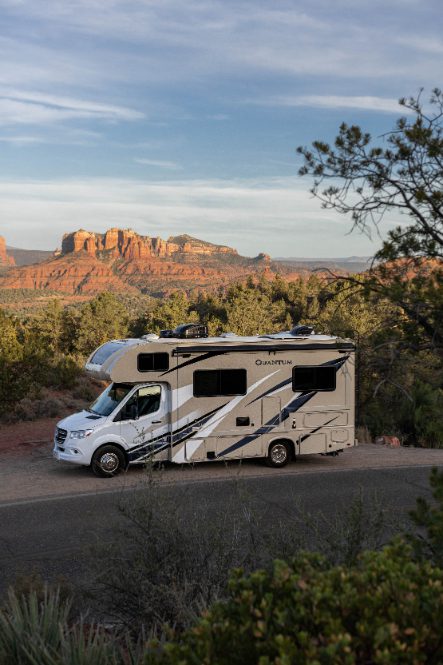 You can travel almost anywhere with your RV, depending on your objectives for the trip. However, it's important to have a clear idea of your final destination to plan your route before you hit the road.
The place you choose will depend on a number of factors – how far you want to travel, what types of activities you enjoy, and how long you plan to stay at your destination.
---
#ad
---
---
Enjoy Comfort and Style in an RV Park
Deciding your camping location can be overwhelming, especially if you're new to RV camping. While many destinations claim to have a campground, not every destination is created equal.
For first-time RVers or those looking for a longer stay, full-service parks like Midland East RV Park are packed with amenities and allow you to fully explore an area of your choosing.
---
---
Notably, RV resorts are the epitome of luxury in RV camping. That's because they have lots of extra amenities like cable TV, Wi-Fi, swimming pools, and many other services.
The resort may be gated, which ensures peace of mind that your belongings will be safe while you're exploring.
Buses to nearby attractions and locations may be provided, so you don't have to unhitch your RV to tour the local areas.
---
---
#ad
---
Nature and Relaxation in an RV-friendly Campground
Most RV campgrounds are great for outdoor activities. While they may have fewer amenities, the locations are secluded, with peaceful nature surrounding them.
One thing to keep in mind is that power hookups, water, and sewer systems may not be guaranteed, and an RV campground itself may be small and unpaved. While this option can be cheaper than an RV park, it may not provide all the luxuries you're accustomed to during travel.
Experienced campers and those with an adventurous streak might enjoy the national parks system, to fully immerse themselves in nature while enjoying some of the comforts of home.
.
---
---
Booking Your Site
Many campgrounds have the option to book a space online. So, if you are planning your trip around peak travel seasons, booking in advance may be essential to ensure you have a guaranteed spot once you arrive.
Before you pack up and hit the road, it's important to check with the management at your chosen destination to be sure that their lots are large enough to accommodate your RV.
While campgrounds typically reserve spaces for RVs and tent campers, many operate on a "first come, first served" basis. So, if you suspect that your destination might have limited space for RVs, call ahead and reserve your spot if possible.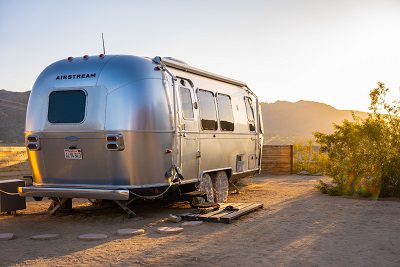 Size restrictions and a lack of available spaces might cause you to have to change plans halfway through, and it's better to be prepared before you arrive at your destination.
If your chosen campground is booked up and you can't find another space, some large chain stores may let you spend the night in their parking lot with permission from the management.
While a parking lot may not seem like the best place to stay, it gives you a place to rest overnight before looking for a vacant site in the morning.
---
---
---
Preparing for Your RV Camping Trip: What to Bring
Whether you are a novice or a seasoned camper, packing for RV camping requires extensive forethought. While your RV might have multiple cabinets and shelves, you won't have enough space for everything. Some essential RV equipment mentioned below depends on whether you own the RV or are renting one for vacation.
The following items should be in your RV camping packing list:
Generator
Hitch
Leveling blocks
Surge protectors
Generator and fuel for the generator
Electrical adaptors
Wheel chocks
Weight distribution bar
Drinking water and sewer hose
Portable toilet and shower
Hydraulic jack
Tool kit with screwdrivers, wrenches, and hammer
These items, coupled with other camping essentials, can quickly accumulate, making storage quite tricky.
You shouldn't place these tools close to containers with caustic fluids. To avoid possible spillage, store any vehicle fluids in airtight containers. You should also consider having an exterior storage segment for RV tools and equipment.
Be sure to allocate extra time to drive to the camping ground so you can have enough time to set up your RV.
While most locations have guides that help visitors set up their gear, you still need time to figure out where to find the amenities.
---
#ad
---
---
Final Thoughts On RV Camping
Taking your RV out on a trip doesn't have to be overwhelming. However, you need to plan your trip to avoid ugly surprises.
Pack enough items for the trip but, not too many, as this could make the process too stressful. After all, you're going RV camping for relaxation and adventure, right?
Be sure to keep your RV properly serviced and maintained to avoid breakdowns and other problems on the road.
While you may want to drive to a campground without notice, it's prudent to book in advance, especially if you plan your RV camping trip during the peak season.
Since navigation can be a hassle in unfamiliar destinations, make sure to carry a GPS, smartphone, and physical map to help you move around.
Regardless of your itinerary, get out there and enjoy yourself!