In this review I tested a broadhead by Lone Wolf, which has traditionally been know for manufacturing deer stands.
Now, they have made a foray into the broadhead market with a really unique design.
Lone Wolf 100-Grain Fixed Blade Broadhead
Here's a good look at the Lone Wolf 100 grain broadhead. And wow, there are all kinds of unique things going on here! I've never seen another broadhead like it. You notice first of all, that it's just one piece construction. But unlike a lot of other heads, it's not one piece of steel. This is one piece of 6061 aluminum (which isn't the strongest aluminum but it's still a pretty strong.)
Now, the strength of a broadhead doesn't just come from its materials. It also comes from its geometric design, like how thick it is, which can affect its structural integrity.
You could have a super-high quality steel, but if it has poor design, it then it could break. Or, you could have something made out of aluminum that a really stout design and it could be really durable.
So, I was eager to see if this will be durable like that or not, given that it's all aluminum.
---
---
A Closer Look At The Lone Wolf Broadhead
With this head being all aluminum, the advantage is it allows the broadhead to be a lot thicker than it would be able to be at this weight (100 grains) than if it were made out of steel. It would be a couple hundred grains at least, maybe 250, if it were made of solid steel.
The Lone Wolf head has a relatively short overall design and it feels relatively sharp. It has a super sharp tip. The backs of the blades are sharpened as well, to make it a little bit easier to pull out of a target or out of an animal. If the animal is moving with the broadhead still embedded, then the back of the blade will be cutting as it is backing out.
---
---
So it's just three blades, but the blades are thick! (At the base, the blades are 0.22″). These are some of the thickest blades I've ever seen!
And, those thick blades are going to create an incredible wound channel, as well as provide some structural durability.
But, instead of just cutting a neat little slit, it's going to take a chunk out of the tissue, or whatever it hits, and create a wound channel that would be really difficult to close up, thus displacing a lot of tissue.
---
---
It also has a hard, anodized coating over it, which will give it a little extra durability.
They say the coating has a Rockwell hardness of about 60, whereas the aluminum itself is about 45 to 50. So, I didn't know how durable it was going to be. And, I didn't know how durable that coating was and what was going to happen when it rubbed off a little bit on the edge.
Nonetheless, I was very intrigued by this broadhead. I really liked the looks of the wound channel that I thought it would generate and I was eager to put it to the test!
---
---
Lone Wolf Broadhead Testing
Let's take a look at the various tests I performed with the Lone Wolf brodheads and the associated results!
For the Lone Wolf broadhead testing, I used my Bowtech CP28 set at 72 pounds. I also used Bishop FOC King Arrows for most of the shots, but then for the really hard impact ones, I used the Bishop FAD Eliminator.
Flight Forgiveness (I field pt then I broadhead @30 yds):
As you can see, the Lone Wolf head had good flight versus a field point.
Initial Sharpness Test
It took 350 grams of force to cut through the wire which is a 8.5 on a 10-point scale.
---
---
---
Ballistic Gel Penetration Test
I shot the Lone Wolf head into ballistic gel fronted with a rubber mat and 1/2″ layer of MDF. It penetrated 7-1/14″.
Edge Retention Test
After the ballistic gel penetration test, I checked the sharpness again… It took an additional 225 grams of force to cut through the wire, which is a 5.5 on a 10-point scale.
---
---
Penetration Test 2 (layered cardboard)
It penetrated through 55 layers of cardboard.
Angled Shot Test (1/4″ MDF/Carpet)
The Lone Wolf head had no issues penetrating the angled MDF and carpet.
---
---
Durability Test (1/2″ MDF max 3 shots):
I shot the Lone Wolf head into MDF three times. It remained in excellent shape.
Durability Test (22 gauge steel plate max 2 shots):
And here it is after the two shots through a .22 gauge steel plate. As you can see, the tip got pretty blunted and the blades got really dulled. But structurally, it held together fine. And, it made really nice holes. They are not just a circular wound channel with three slits, but they are really triangular holes, due to the extra thick blades.
Concrete Block Test
I shot the Lone Wolf broadhead into a concrete block and it actually stuck.
Here is the head after all the durability tests. Now, after the steel plate, the edges got really dulled from that.. very dulled. And, the tips was really rounded as well. But structurally, it held together extremely well and stuck very deeply into the concrete. It still spun true.
---
---
Final Thoughts On The Lone Wolf Broadhead
So what do you think of this broadhead?
Man, I tell you. It has some real unique strengths to it. And, I love it whenever somebody comes out with something different and tries some innovation, because that's what makes broadheads evolve. Somebody tries something and maybe they hit it dead center and you're like, "Wow! This is the best thing." Or maybe it spurs on some other idea.
Something I really like about is the amount of tissue it displaces. I like the wound channel that it's going to generate. Even though it's not super wide, it's going to create some wounds that are going to be difficult to close up.
And, I like the idea of trying something in a different material… in this case, aluminum.
---
---
So, I like a lot of that ingenuity.
But, in terms of real performance when it comes to sharpness, edge retention and durability, it proved to be lacking.
So I can imagine it's going to really put an animal down if you hit it in a good spot, but in terms of prolonged usage and resharpening and so forth, I think you're going to have some challenges with it.
Here's the Lusk Grade (7 Golden Arrows) for the Lone Wolf Broadhead.
So, I applaud Lone Wolf for coming up with a really creative design. Be sure to check out the score sheet to see how it did in the areas that matter to you, and see if this broadhead might be a good fit for you.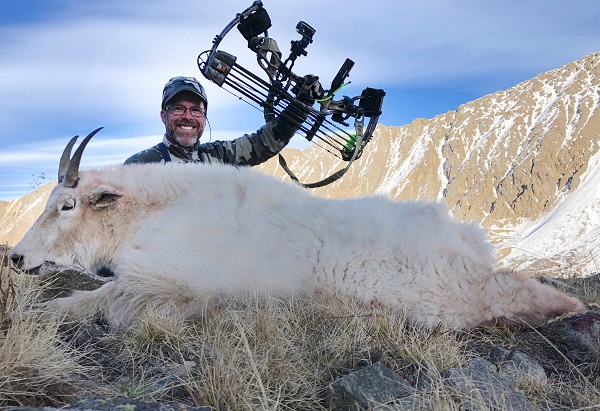 John Lusk of Lusk Archery Adventures