In today's internet-heavy economy, it's no wonder that many often ask… can I buy a gun online?
Well, the short answer is yes, but there are some specifics you need to be aware of.
The truth is, some people just aren't comfortable lingering too long inside a gun shop. Then, there are others who are misinformed with regards to the process behind buying a gun online. We are going to clear a few things up about this aspect of gun ownership.
Whether you want a gun as a means of protection for you and your family, or to use for recreational purposes, you should be very careful about how you make your purchase.
So, let's take a deep dive into the various aspects of buying a gun online. Here are some of the things you'll have to consider when doing so.
Is It Legal To Buy Guns Online?
Yes, it is legal to buy a gun online. However, keep in mind that even when made online, gun transactions are heavily regulated to protect you and those around you from irresponsible gun ownership.
However, there are a few things you need to consider about the legality of buying a gun online. After all, the last thing you want to do is own an illegally purchased firearm.
---
#ad
---
For starters, make sure that you only buy only from authorized dealers online. Some websites are going to pose as legitimate sources of firearms to make a quick buck.
If you transact with retailers that aren't authorized, you are risking yourself getting counterfeit products – or worse, guns that aren't registered. This could result in a number of problems and legal issues. Therefore, it is advisable to buy guns only from authorized and reputed gun dealers (like Palmetto State Armory, for example).
We'll cover more specifics of buying online a little further down, but first…
---
---
---
How The Gun Act Of 1968 Affects Buying Online
While you can buy a firearm online, you cannot have it delivered directly to your home.
The Gun Act of 1968 was signed into law by President Lyndon B. Johnson and it prohibited the the direct mailing of any firearms to individuals. It not only banned mail order sales of shotguns and rifles (antique guns were an exception), but it also prohibited convicted felons, drug users and the mentally incompetent from using guns.
Antique guns were an exception to the banning of interstate shipments of firearms and ammo by the Gun Act of 1968.
Today, an individuals still cannot have guns delivered directly to their homes, but they can purchase other guns online, but with certain regulations.
However, while you can buy guns online today, it's not necessarily easier than buying one in person. As a matter of fact, considering the extra time you have to wait to get a gun, some would say that it's actually more work to buy one online. But, we'll get to some of the reasons why you might want to consider buying a gun online.
---
#ad
---
---
Finding The Right Platform To Purchase From
Knowing where to buy guns on the internet safely requires a bit of know-how. The first thing you want to do when picking a website to purchase a firearm is to pay attention to how they rank on Google when you search online.
Google's search engine algorithm makes it so that the more highly reputable websites will rank on the first page of the search results. So, don't attempt to buy guns from websites that are deep within the result, as they may be at the back end for a reason.
When looking to purchase a firearm online, be sure you are purchasing from a reputable website/online dealer.
---
---
Even if you've picked the top website from the search engine results page, you should still do some checking around before purchasing. Look for reviews online of the website you are considering and check for certifications on the platform as well. This will help ensure that you are transacting only with reputable websites and sellers.
---
#ad
---
Aside from the quality of the guns, you also need to be protective of your data online as well. This is another reason why it's highly suggested to find the right platforms to purchase your guns through.
---
---
How To Buy Guns Online
Once you have found a reputable online dealer, you need to find a FFL (Federal Firearm Licensee) dealer, so that they can fulfill the background checks that are required and transfer the firearm to you in person via an FFL transfer.
Even though you can purchase a gun online, you'll need to have it shipped to an FFL (Federal Firearm Licensee) who can then transfer ownership to you after fulfilling background checks and any additional state regulations.
Keep in mind that your home state may have additional regulations and processes in addition to the Federal requirements.
The FFL basically serves as a middle-man between you and the website where you bought the gun from.
So, as you can see, while you can buy the gun online, the process of the purchase and transfer of the firearm are virtually the same as if you has gone to a brick-and-mortar gun dealer to purchase (but not necessarily "easier".)
---
---
To purchase a gun, you'll need to be at least 18 years of age, a citizen of the United States, and have the appropriate licensure/permits. Be sure to bring all required documentation and proof of identification when going to pick up the firearm.
---
#ad
---
---
Pros Of Buying Online
There are a few pros to buying your guns online. First, you can often get guns for a cheaper price because there are no overhead costs from the seller. This is one of the main reasons many people actually prefer buying their guns online instead of in brick-and-mortar stores.
You can also research what type of sight or scope will be compatible with the gun you choose.
While gun sales still occur in physical stores, there are typically much better opportunities for discounts online. From coupon codes to flash sales, there's always an opportunity to get significant discounts.
The chance for better selection as well as sales and discounts is one pro of buying guns online.
---
---
Another pro to buying online is that you have access to a wider selection online that what a physical location might have to offer. By broadening your online search, you might even find some truly rare firearms that you might not otherwise have access to view in person.
So, whether you're a gun collector or just use firearms for recreational use such as deer hunting and target practice, you're certain to find a gun of your choice online.
There are dedicated stores that cater specifically to collectors and have amazing historical guns for sale. On the other hand, some stores cater to specific gun users, such as those wanting them for hunting or for protection.
---
---
---
Cons Of Buying Online
Just as there are pros to buying guns online, there are cons as well.
The most obvious is that since you are getting your firearm online, you won't get to see it or feel it until it's already been delivered to the authorized dealer.
Some gun owners don't like this because they want to see how a gun looks and feels in their hands before actually purchasing it. Of course, this problem can be overlooked if you are already familiar with the gun you would be getting.
To help ensure that you are making a purchase that you will be happy with, do thorough research on the specific gun you are eyeing before purchasing.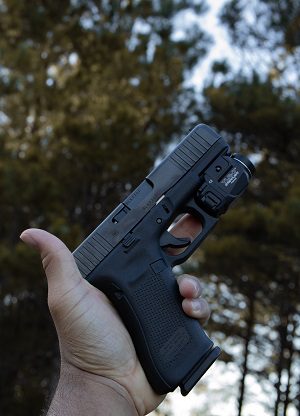 One disadvantage of buying guns online is that you won't know how a gun will look and feel in your hand if you are not yet familiar with that particular model.
Another problem regarding online purchases is that you're going to have to wait longer before the item gets delivered than if you were to buy it locally.
Another con you need to consider is that if your gun has problems or defects, it could take a lot longer to have it fixed.
Some online retailers will actually encourage you to send your gun to them for repair. But, if they don't, you would need to take to a gunsmith in your area.
Look for online retailers that offer a warranty on they guns they sell. The good news is that most retailers offer these. Again, keep in mind that if there are defects, you'll have to ship the item to the retailer and then wait for them to redeliver the product again. The same goes for replacements.
---
---
---
Conclusion
Buying a gun online is not as easy as you think it might be. Even when buying online, there's no such thing as a loophole when buying guns, as the Gun Act of 1968 affects even internet sales. So, do your research, and of course, be safe!