If you're just getting started lake fishing, a rod and reel, line, weights and hooks are a must.
But, then what? After all, fishing is fun, but catching fish is even better!
Let's cover some things you'll want to consider and be aware of as you choose the best bait for your next lake fishing adventure!
Knowing some key factors is important to setting yourself up for the best chance possible to put a hook N1…
1. Know The Different Types Of Bait
Generally, baits for freshwater fish are classified into two groups, these are:
Some anglers prefer live baits over artificial ones because they're free (if you can catch your own) and contain the smell and texture that most freshwater fish species are already familiar with. Some ordinary, cheap, and easy-to-find live baits are worms, leeches, grubs, and mealworms.
Shad are just one of the many types of live bait that can be used to catch freshwater fish.
These live baits may include clams and mussels, crayfish, eels, insects (caterpillars, crickets, and bugs), shad and other types of minnows.
Artificial baits are ideal for catching bigger fish and are safer to use. Some of the standard artificial baits are crankbaits, jigs, flies, and spoons.
Artificial lures that mimic a particular live bait can produce great results when fishing in lakes.
You may also use unique lures and tubes, such as abalone shell types. You may explore more types of artificial lures at a variety of websites, like https://www.meltontackle.com/ and others.
---
---
2. Identify The Fish You're Planning To Catch
Before you grab your fishing rod and gear and head to the lake, you need to determine what type of fish you will be targeting, as this will help determine the main type of live bait or lure to use.
Here are some of the common freshwater fish types and the lures and baits they are typically attracted to:
Walleye
Adult walleyes feed primarily on other fish like shiners and minnows.
Walleye will likely be attracted by shiner and flathead minnows. For a larger catch, you may use 4 to 6-inch minnows.
---
---
Bluegill
Bluegill are fun to catch and they also will strike a variety of baits and lures… and bread?
Bluegill will feast on a variety of live baits, such as worms, crickets, grasshoppers, meal worms or night crawlers. When baiting the hook, you may want to consider covering the entire hook with the bait's body.
Even pieces of bread, rolled up into balls and put on a hook can entice bluegill to bite.
Artificial lures like a beetle spin, rooster tail, or (if you're fly fishing) artificial flies can all be effective for catching bluegill.
---
#ad
---
Trout
Trout preys on both live and artificial baits. Because of this, you may use a crayfish, worms, night crawlers salmon eggs, and artificial lures.
---
---
Catfish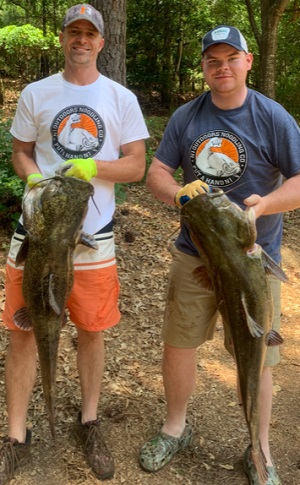 Catfish will eat worms, minnows, stink baits, cut bait and even… your hand!
There are many types of catfish. But, typically, catfish will eat many different things they can find in the water, including nightcrawlers, leeches, dead and live minnows, and even leftover food (they'll even bite your hand!) Baits that stink are attractive to many catfish, including flatheads.
---
#ad
---
Bass
Bass are one of the most sought after freshwater fish in the U.S.and bassfishing lures and gear is a cornerstone of the fishing industry. But what lures should you use? (see below)
Your can be very successful at bass fishing using both live and artificial baits.
Largemouth bass prefer shad, shiners, and minnows. If you use artificial baits, you may need to pick those resembling live baits that bass feed on.
Plastic worms, swim baits and other soft baits, as well as crankbaits are a some top choices of bass fisherman.
You may also use bladed baits like spinner baits and buzz baits, jigs, and topwater lures for smallmouth bass and largemouth bass.
---
---
Crappie
Crappie are predators and will feed on many different types of live fish, as well as artificial lures that resemble them.
Minnows, insects, and crayfish are all baits that a crappie will eat. In some cases, anglers will add a live bait to a jig for a dual presentation to get a crappie to strike. They will even feed on other immature game fish like walleye, bluegill, pike, etc.
---
---
---
Pike
This fish feeds on baits with a strong smell, such as chubs, alewives, and smelt. They will often strike dead baits as well.
Salmon
Salmon may go after trout beads, sand shrimp, cut herrings and other fish, as well as crayfish, mayflies and more.
---
---
3. Consider The Location
It's important to be familiar with the depth of the lake you will be fishing when choosing a bait or lure.
Freshwater fish, especially the larger ones, are often attracted to artificial baits. In addition, the deeper the location is, the more likely a fish will be after artificial bait.
If you're after deep-water bass and similar fish, you may consider using baits ideal for drop shots, such as swimbaits. An excellent alternative live bait for this option is a worm.
You may opt to compact jigs, squarebill crankbaits, and spinnerbaits for shallow lake areas. On the other hand, panfish and worms are the natural baits for this space.
---
---
4. Think About The Weather
The weather can play a big factor in when the fish will be feeding…
Weather affects your bait selection because of the barometric pressure associated with it.
Typically, hotter weather is the perfect time for freshwater fish to hunt for food. Because of this, you may need to use fast-running artificial baits.
On the other hand, fish tend to be sluggish during cooler weather, so you may prefer slow-running jigs and crankbaits.
However, an exemption to this generalization is the bass population. In many cases, bass like to move and feed when there's an approaching storm. Because of this, you may consider the baits you can aggressively use during this time.
---
#ad
---
---
5. Consider The Season
Worms may work any time of the year, but this isn't always the case for other baits.
Different seasons may require various types of bait. For example, spinnerbaits work well during the morning and the evening in the summertime.
Crankbaits, on the other hand, are suitable for deep-water summertime fishing. In the Springtime, finesse worms and suspended crankbaits may provide better resulsts. You may also combine lures and baits with jig baits and crayfish.
The time of day, as well as the seasons also have a major impact on when fish will feed…
Many freshwater fish swim in shallower water during autumn. Because of this, you may need to use shallow-running crankbaits.
The ideal live baits for this season are minnows, bluegills, and shad. Winter fishing could be challenging because of the inclement weather.
In addition, live baits can be harder to find during this season. Many anglers will use shad raps and hair jigs during this time of the year.
---
---
6. Check The State's Fishing Regulations
Every state has different fishing regulations when it comes to baits.
Most states identify worms, vegetable materials, and artificial baits as legal baits. However, some states don't allow the use of some baits. For example, in California, anglers are prohibited from using bluegills as baits. Live fish, shrimps, frogs, and leeches aren't allowed in Idaho.
Be sure to check the local fishing regulations of where you plan to fish.
To avoid using illegal baits in your state, you may need to be familiar with your state's fishing regulations. In most cases, you'll find rules regarding this matter on the Fisheries and Wildlife Department's website of the lake you plan to fish.
Generally, these rules may also contain a list of legal and illegal baits and the legitimate ways of fishing and storing baitfish.
---
---
Closing Thoughts on Best Baits For Lake Fishing
Lakes are some of the best spots for freshwater fishing. They're home to some of the best freshwater fish, such as largemouth and smallmouth bass, blue catfish, and Northern pike.
However, for the best chance for fishing success, anglers need to do their homework and be familiar with the above sections before wetting a line.
---
---
Of course, for more ideas of what baits are ideal for a particular fish, lake depth, and time, it's always a good idea to ask local and seasoned anglers about their fishing hacks.
Additionally, fishing forums and groups can also provide helpful information about current angling practices, including the recent and cost-effective lures and baits you may need in a particular body of water
Happy fishing and we hope you put a hook N1!