Depending on the time of year, mule deer and white tail deer can be almost indistinguishable. But, if you watch them closely, there are some tell-tail differences.
Mule deer and whitetail similarities
Although there are some distinct differences, whitetail and mule deer do have some things in common.
Coloring
During the Summertime, mule deer are often more tannish-brown while whitetail tend to be more of a reddish brown color.
However, in Winter, both types tend to turn more grayish.
---
---
---
Location
Whitetails are generally found in the middle and Eastern U.S., extending both North and South of the border. But, whitetail are remarkable at adapting, and thrive in all kinds of environments, from swamps to forests to grasslands.
Typically, mule deer like higher territory in the mountains and are found in the central and western parts of the US, Canada, and Mexico. However, the territories of the two breeds overlap greatly. Therefore, geography can't be relied on as a great indicator of whether that deer you see off in the distance is a mule deer or a whitetail.
---
---
Size
Size is another characteristic where there is overlap between mule deer and whitetail. Size can vary depending on geographic location, available food sources and habitat.
According to the National Wildlife Federation, typical mule deer weights range from 130-280 pounds. However, In rare cases, very large mule deer can tip the scales at 450+ pounds.
---
---
Whitetail deer are generally smaller in average weight, averaging around 90-220 pounds, but those big bucks can, in rare cases, come in near 400 pounds.
With size varying so much based on diet, age, and location, it is impossible to tell a whitetail from a mule deer based on size alone. Even characteristics like hoofprints are not distinguishable between the two.
So, before you prepare for the hunt and sight in your rifle or prepare for your bowhunt, let's make sure you do know some distinguishing characteristics between these two different types of deer.
---
---
---
Differences Between Whitetail and Mule Deer
Now that we've covered some basic characteristics of whitetail and mule deer, let's look at some differences between mule deer and whitetail that can help you distinguish between the two.
Facial markings
If you look more closely at the face, whitetails have more solid-colored brown heads with white around the eyes and often a white patch under the jaw at the top of the neck. (Rare genetic mutations like piebaldism can affect the amount of white markings).
Mule deer (sometimes referred to as muleys) have a lighter top bridge of the nose, with a darker forehead above the eyes. These are the general colorings, but each individual deer is different and color can change with weather, age, and location. Because of this, you can't rely on coloring alone to distinguish between the two.
---
---
Ears
With so many similarities between whitetail and mule deer, there are a few key differences to look for when peering at them through your scope or binoculars.
One is the ears.
True to their name, mule deer have larger ears relative to the size of their head. They are also often more pointed and angle slightly more to the sides than the whitetail deer.
It is tough to compare the angle of the ears as deer have a habit of always moving them. So, try to look at the size of the ears as one indication to identify mule deer from whitetails.
---
---
Tail
While the ears are one of the differentiating characteristics on the head of these animals, the other end of the animal has a great defining characteristic as well.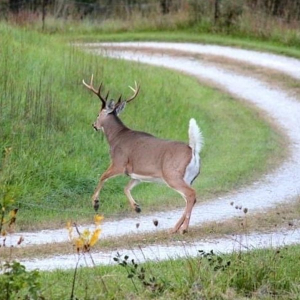 Mule deer have a white colored rump that is almost always visible. They have a skinny rope-like tail tail, often with a black tip.
Whitetail deer on the other hand, have a more brownish rump and outside of the tail when relaxed. If a whitetail is startled, however, that wide flap of a tail lifts showing a bright white underside as a "flag" to warn other deer of possible danger, thus the name "whitetail deer."
---
---
---
Antlers
Whether you are hunting from the ground or from your treestand, if you can get a look at a deer's antlers, you may be able to determine whether it is a mule deer and a whitetail.
Both breeds of male deer have large showy antlers (although they are shed once a year around mid to late winter).
Whitetail males have one main "trunk" or beam on their antlers with the tines all coming from that main stem.
Mule deer, however, have a main trunk that branches in two before forking into tines. Because of this, the mule deer's antlers often look taller and more upright compared to the forward "hug" of a white tail's rack.
The difference in antler structure between whitetails and mule deer is something a trained eye can pick up. However, some individual antlers can be too small or even grow oddly, so make sure to look for other characteristics too.
---
---
>> Check out all of our hunting and fishing shirts and gear!
---
The Run
The way these two types of deer typically run can be a clear distinguishing characteristic of whitetail and mule deer.
When fleeing, a whitetail has a typical run or gallop, similar in style to a horse. They may bound over fences or obstacles, but in general they have a quick, fluid motion.
Mule deer on the other hand, often flee with a stodgy hopping motion called stotting. All four hooves contact and push off the ground at once like springs, bouncing across the terrain again and again until slowing to a trot.
---
---
Conclusion
When it comes to gun hunting especially, one of the main lessons for firearms is to be sure of your target.
This applies whether you are hunting waterfowl, deer or feral hogs.
So, make sure that when you are trying to identify a mule deer versus a whitetail, that you compare multiple characteristics.
---
---
There are many similarities, and even the distinguishing traits can vary based on age, location, nutrition, and time of year. One can easily be mistaken for the other. Even some of the sounds these deer make can be similar.
So, be sure you know the differences – some subtle and some more pronounced – so you can easily tell the difference between the two.
Best of luck in all your hunting adventures!
---