Ozcut Hurricane Broadheads Review | The Inside Information
In this review, I tested the Ozcut Hurricane broadheads.
Ozcut is a company outside of Australia and the time of this review, they are a relatively new company. I've been intrigued by these broadheads and was excited to test them out.
I have a passion for single bevel heads. So, I love it when someone comes out with a single bevel, 3-blade head.
Now, I've seen some other single bevel multi-blade heads that had some design flaws that prevented them from getting the full benefit of the single bevel.
However, I was intrigued by this one for a few reasons that we'll get into right now.
My Initial Impression of the Ozcut Hurricane
First of all, the Hurricane is one piece, solid construction, and made out high-carbon steel.
The blades are really thick. And, for a single bevel to be of a benefit, they need to be thick like that.
There's a nice tanto tip, so it's a really durable tip and the back of the blades are sharpened. So, if it doesn't go all the way through the animal, that head is going to stay in there doing some cutting. It also makes it easier to pull them out of your target.
So, there's a lot about this head that I really like. I did some of my normal testing. I shot it through a couple of different layers of MDF with a rubber foam mat in the front. I also shot it at long distance. And, I shot it through some steel as well as into a cinder block. I also shot into ballistic gel to test rotation.
So, let's see how the head holds up, how it penetrates, and how it does in this testing.
---
---
The cutting diameter on the Ozcut Hurricane broadhead is 1-1/16 inches.
---
---
Long Range Flight
The Ozcut Hurricane flew exceptionally well in the long-range shot testing. I was able to pop a balloon at 80 yards with ease.
Penetration Testing
The first penetration test was through MDF boards that had a layer of foam matting in front of them…
---
---
---
Steel Plate Penetration Test
In the next penetration test, I shot the Ozcut Hurricane into a steel plate, followed by a layer of MDF behind it.
---
---
Cinder Block Test
Because it's a solid machine broadhead, I shot the Hurricane into a concrete block. Not many heads have held up really well through this. the Bishop held up well, and also the Iron Will. The Tooth of the Arrow broadheads, Exodus, and A-TAC broadheads also held up quite well.
Let's see how the Ozcut does.
---
---
---
Ballistic Gel Test
I was curious to see how the rotation of the Hurricane would do in a ballistic gel. So, I shot it into the ballistic gel (below). I also had some MDF behind it.
In this test, I compared it to a single bevel, 2-blade head, the Bishop Scientific Method to see how it rotates in the same medium. I also compared it to the Exodus broadheads.
---
---
---
---
---
Final thoughts on the Ozcut Hurricane
So there you have it, the Ozcut Hurricane. This broadhead is a winner. There's a lot I really like about it. It flies really well.
They say the single bevel design helps to speed up the rotation. I can't verify that because I can't quantify the rotation. But, I can tell you, I shoot a lot of single-bevel heads at long range and man, this one was really easy to pop balloons with. It was automatic.
I would say this is amongst the very best shooting long-range, solid fixed-blade broadheads that I've ever shot. I can't think of any that fly better than this.
This head is right up there with the A-TAC. It just flies really well.
This head also penetrates really well. You can see through all those mediums and where it rotated really well through the gel. You could see that S-cut in the steel and see it starting into the wood as well.
---
---
Possible Improvements
There are two things about this head that I think they could have done differently.
What could have made it like even better is using a higher quality steel. Not that this is bad – it's a good machined head, out of a solid chunk of carbon steel. But, when you're using a single bevel broadhead, the rotational force and the pressure that is put on that one blade angle is intense. This calls for premium steel.
---
---
After shooting it a few times, you can see where it gets dinged up.
In addition, it's not super easy to find that bevel to sharpen it just right.
I also wish there was a larger cutting diameter. And, although it penetrates really well, the 1-1/16 inch cutting diameter is not the best for opening up a very big hole. I just wish it was bigger.
If it was like 1-1/8 inch, even or 1-1/4 inch, that would be awesome. If it was just a little bit bigger entrance and exit hole, I would like it even more.
So, what is this type of head great for? As it is, this would be a great elk or moose head for lower kinetic energy setups. I think it could also be great for deer hunting, for big hogs, bears or African plains game.
So, really cool design, really cool head. Give it a look.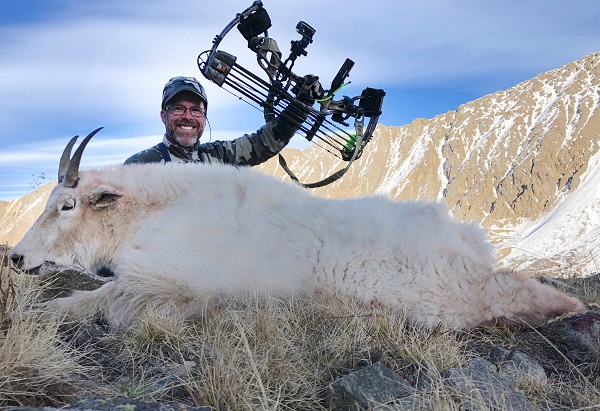 John Lusk
John Lusk is an avid bowhunter and broadhead fanatic. He has taken well over 100 big game animals with his bow all over the US, as well as Canada and South Africa. He puts his Engineering degree to use in his broadhead testing and has tested over 50 different broadheads. He has written articles in a dozen different archery publications, appeared on several hunting TV shows, and has well over a million views on his YouTube Channel: Lusk Archery Adventures. There you will find more than 70 videos of his hunts and extensive broadhead tests. When he is not shooting his bow, John serves alongside his wife as the Pastor of the Des Moines Church of Christ, in Des Moines, Iowa.