Sevr Broadheads Review | What You Need To Know
-By John Lusk
In this broadhead review, I tested broadheads from SEVR; The SEVR 1.5, 1.7, 2.1 and Ti 2.0.
SEVR Broadhead Offerings
SEVR originally came out with a broadhead that had a 2.1" cutting diameter. It was a great head with fantastic flight and it was tough. But, the penetration is about what you would expect from a 2.1" broadhead and it was a bit lacking in kinetic energy for my purposes.
For a deer, or even for smaller game like turkey, if your number one goal is a big hole, the 2.1" SEVR is going to deliver. But to round out their lineup, they've come up with two additional offerings.
SEVR 1.7-inch Broadhead
To compliment their original broadhead, SEVR introduced a 1.7" head. It has a stainless steel tip and it has got a good grade aluminum ferrule. It has rear deploying blades that lock in place, which I love.
The 1.7" cutting diameter provides decent penetration and is a good all-around broadhead offering for pretty much any kind of game.
SEVR 1.5-inch Broadhead
SEVR also introduced the 1.5-inch head. The 1.5-inch operates just like the 2.1-inch with a few design differences.
On the 1.7-inch head, the tip is not quite as big as the 1.5-inch head and also has a smaller ferrule. The 1.7-inch head only comes in a 100-grain and is a little cheaper, while the 1.5-inch head comes in a 100-grain as well as a 125-grain.
SEVR 1.5-inch and 1.7-inch heads | The details…
Firstly, just as the name implies, the 1.5-inch head has a 1.5-inch cutting diameter. Also, the ferrule and tip on the 1.5-inch head are titanium, as opposed to the stainless steel tip and aluminum ferrule of its 2.1-inch predecessor.
The blades of the 1.5-inch head are stainless steel and lock into place just like the 2.1-inch head.
The 1.5-inch head is designed for big-bodied, heavy-skinned animals. It is also better for longer distance shots, due to the smaller cutting diameter.
Although the cut is 1.5" wide, the chiseled tip itself is approximately 5/16-inch wide. So, with the 1.5-inch width cut in one direction and the 5/16-inch wide tip cut in the other direction, you get a total of a little over 1-3/4 inches of cut with a 1-1/2-inch hole.
---
#ad
---
Pricing
SEVR has a direct-to consumer approach, so you can only order them from their website. You can purchase them by the eaches, but you can get a better deal if you buy higher quantities.
At the time of this article's publishing, the 1.7-heads are $11.99 each. The 1.5-inch head is $13.99. The 1.5 is more expensive due to the titanium head. You can purchase at SEVRbroadheads.com.
Using code LUSKFIVE will give you $5 off any order at SEVRbroadheads.com!
Blades and cutting features
I love the way the SEVRs work. They have two small "wings" that are exposed during flight. When they come in contact with an animal, they actually "pre-stretch" the hide (skin) as the blades deploy. In theory, since the blades are rear-deploying, not only do you get a 4-cut entry, but you get a bigger cut.
---
---
>>Hunting & Fishing Shirts with a story
The heads of the SEVRs also lock into place. So, unlike a lot of mechanical heads that can close down if there's not a certain amount of pressure, these heads lock in place and they stay that way in the animal.
Because they lock in place, they will not give a smaller cut than they do at their full deployment. The blades will go back into pre-deployment position when removing from the animal, but will still lock back down in deployment position.
If you've ever shot a broadhead into a deer or other animal and hit bone, it typically deflects off course. But, the great thing about the SEVRs is that the will rotate to one side if they come they come into contact with bone or a hard medium like a rib. The blade will simply fall to the side that encounters the bone, allowing the other blade to continue cutting and still keeps the broadhead on track.
This feature helps increase the chances of getting a good exit and getting better penetration of lungs and other vitals when the head encounters bone. And, because the blades stay locked even as they rotate, they just "dance" around the bone.
SEVR blades will rotate when coming in contact with bone or other hard surfaces, which helps prevent bending and breaking of blades and keeps heads on course.
Another nice feature to the SEVR broadheads is that when there is heavy pressure on the blades – the type of pressure that might bend or break both blades – they compressed ever so slightly to absorb some of that impact. Because of this feature, they are difficult to break.
---
---
---
Blade Thickness
The 1.7-inch heads have a blade thickness of 0.035-inch thick. The 1.5-inch heads have blades that are 0.032-inch thick. Both heads have all the same features, locking in place and pivoting around bone, staying on track.
I was excited that they came out with a 1.7 and came out with a 1.5 because the 2.1-inch was just a little bit much for me to be able to be confident that I would be able to get a pass-through on an animal.
Although I knew I would get a big hole, I needed to be confident that I would get pass throughs. And, when hunting large animals like elk or bear, I want to be sure I get deep penetration.
---
---
Blade angle and overall cut
Another thing I like about the 1.5-inch head versus the original 2.1-inch head is that the blade angle is much less. So, penetration is not only better because of a smaller cutting area, but it's also better because of the smaller angle.
The same with the 1.7-inch head. While it has a slightly larger cutting angle than the 1.5, it is still less than the 2.1. So, the 1.7 also gets better penetration, not only because of the angle, but because of the smaller diameter cut.
Now, you might think, "Oh, 1.5 or 1.7 inches is kind of small." But, there are not many fixed heads that have a 1.5-inch cut. They might have a combined 2-inch cut, with 1-inch one way and 1-inch the other way. But, what I have found with broadheads on game animals is that the wider a cut, the more effective bloodletting you will get.
On three and four-blade broadheads, although you may get more total tissue cut, you get a smaller cutting diameter. And, smaller holes tend to get plugged up easier with organs blood and tissue, resulting in less effective blood trails.
But, when you get a wider cut, even like a 1.5-inch, the hide and wound tend to stretch open as the animal moves, producing better bloodletting. Of course, with the 1.7, you would get even more. With the 2.1-inch head, you're going to get a lot of bloodletting, but you are going to compromise penetration to do so.
So, with the new SEVR lineup, you have something for everyone. But, what I really wanted to see was… how do they fly? They are really the same heads, so I just tested the 1.5-inch.
---
---
SEVR flight
The SEVRs fly just like a field point, providing great accuracy, even at long distances.
When it comes to target shooting the SEVR heads, there is a feature that helps them stand out. Each head comes with a small set screw, so that when you shoot, the head stays in a closed position. Because the blades do not deploy, they don't touch the target at all. It's very nice on your target and on the head itself.
So, in essence it makes the actual broadhead a practice head, and is easy to pull out of the target. Just be sure that when you hunt, you have removed the set screw, or the blades will not deploy.
---
---
Penetration and durability testing
For my penetration and durability tests, I shot the SEVR heads through 1-2-inch layers of MDF, with a foam mat in the front. I also shot them at a 45-degree angle on the MDF. After those tests, I shot them into a steel plate.
For testing, I shot the Bowtech SR6, set at 72 pounds, on the comfort setting. The arrows I used with the heads are the Bishop Mammoth FOC King, bsecause they are the most durable arrows made. These tests really put the arrows through the ringer and yet they don't get damaged, as they are incredibly resilient.
MDF Board Penetration Test
I shot the 1.5-inch, 125-grain head and the 1.7-inch, 100-grain head into the MDF. Both broadheads penetrated all the way through the first board and then stopped into the second board.
In the back of the second layer of MDF, the 1.7-inch bulged out a little bit. The 1.5-inch bulged out quite a bit more.
On the entrance hole, both deployed upon impact even with the soft pad over the first board and the cuts are exactly as advertised.
The 1.5-inch head opened up to 1.5 inches. And the 1.7-inch head opened up to 1.7 inches exactly.
45-degree angle shot into MDF
I set up two MDF boards at a 45-degree angle and shot both the 1.5 and 1.7-inch heads into it.
Both heads penetrated precisely straight through. There was no sliding off the 45-degree angle board at all. And, the penetration was great for both of them. You see the top one was the 1.5-inch, the bottom the 1.7.
---
---
Steel Plate Penetration Test
Because these heads held up so well in the MDF testing, I also shot them into a steel plate to evaluate what would happen.
I honestly wasn't expecting them to hold up that well after all those other MDF board shots. But, they went through the steel plate and then through the second board.
You can see that the 1.5-inch at the top, blew all the way through it. And you can see the tip of the 1.7-inch, 100-grain, sticking at the bottom.
---
---
Here are the heads after going through the initial two layers of MDF and then another layer of MDF and an angle, and then a layer of steel plate and then another MDF, half inch MDF. All of them were half inch MDFs. And they both held up extremely well.
On the 1.5-inch, there was zero damage to the tip. The blades took very little damage, incurring only one nick. (The nick at the bottom is part of the design that holds the rubber bands in place.)
As for the 1.7-inch, they too held up really well, receiving small nicks both blades from the steel plate test.
Overall, the SEVR heads held up really well, including the blades, tips and ferrules.
BONUS: SEVR 2.0 Ti Broadheads Review
Below I'm going to show you the results of my testing of the SEVR Ti 2.0, but first, a little history behind this head…
How the Ti 2.0 came to be
SEVR originally came out with their first broadhead, called the 2.1, which was just known as the SEVR. It had a massive 2.1 cutting diameter, and some really cool features (blades pivoting around bone and a super low profile in flight, titanium ferrule, etc.)
There was a lot I liked about that head and I did some initial testing on it when it first came out.
The only drawback that I saw in that head was that it wasn't the best at penetration. Now, with a full 2.1-inch cut, you don't expect it to penetrate super well, but I thought it should penetrate a bit better than it did.
So since that time, SEVR came out with the 1.7 and the 1.5, which I've covered above. They shortened the cut a little bit in the 1.7, and 1.5 (1.7 inches and 1.5 inches instead of 2.1). I've since come to love those heads. In fact, the 1.5 is one of my very favorite heads, period. It's more durable than most fixed-blade heads and by far the most durable mechanical that I've ever tested. I've taken animals with it all over the world.
Well now, they've come out with another big cut model that is also supposed to maximize penetration. And that is this Ti, (Titanium) 2.0.
---
---
The SEVR Ti 2.0 compared to the old SEVR 2.1
I tested the SEVR Ti 2.0 for penetration, for edge sharpness and retention, and for durability.
I didn't test the flight because I've already tested the flight of the SEVRs quite a bit and they fly exceptionally well. You can see the low profile. They just fly like a field point.
But I put it through all those other tests and I want to compare the 2.1 to the new 2.0 and see what the difference is in terms of penetration.
The SEVRs have a solid titanium ferrule that is grade 5 titanium and one piece all the way up, including the tip.
The blades are made out of a hardened 420 stainless steel at 0.032 inches thick. The blades are held in place by a little O-ring at the base that fits into that groove and when they're shot and penetrate into the hide when they first made contact, the winged tips pushed the blades back and they deploy and lock into an open position, giving a full cutting diameter (in this case, 2.1 inches).
These two heads may look similar, but there are three main differences.
The new Ti 2.0 has a slightly smaller cut, 2.0 inches versus 2.1 on the original SEVR.
The blades of the Ti 2.0 have a more swept angle (less straightness) to them, so they're going to get easier penetration.
The little winged tips that caused the deployment of the 2.1, they protrude a little bit farther beyond the blade than they do on the 2.0. On the 2.0, they just slightly protrude, and that increases penetration.
So, those three changes and modifications from the 2.1 to the 2.0 are supposed to result in up to 15% deeper penetration by and large. So I was eager that to the test.
SEVR Ti 2.0 sharpness test
The SEVR Ti 2.0 was still able to cut paper cuts paper after five strokes of the shaft of a carbon arrow.
---
---
Ballistic Gel Penetration test comparison
I shot both the 2.1 and the Ti 2.0 into ballistic gel that was fronted by a rubber mat and 1/2″ MDF.
Ti 2.0 MDF durability test
I shot the Ti 2.0 into MDF to see how it would hold up. The results were surprising.
Then, I decided to see how it would handle a .22 gauge steel plate.
One last thing I think is worth noting on the Ti 2.0… If you already have the old 2.1 heads, you can just order the blades for the 2.0 and swap them out. These can be used with the ferrule of the 2.1. So, it's nice that you can do that. If you want to pick up some penetration from the 2.1s that you already have, just get the new blades and put them in there.
---
---
SEVR Broadheads Review Conclusion
When I first heard the SEVR broadheads were hitting the market, I had a lot of hope that they penetrate well and hold up well with the changes made to the new models. These heads have exceeded my expectations.
In terms of flight, I knew they would fly extremely well. And, they fly as good as any mechanical head I've ever tested. They are like a field point in flight, flying right up there with the very best.
In terms of penetration, they were excellent, maintain outstanding durability as they were shot into 4 total layers of ½-inch MDF, a steel plate and foam mat.
So the SEVR 1.5 and 1.7-inch are really a good heads for bowhunters to consider for various animals.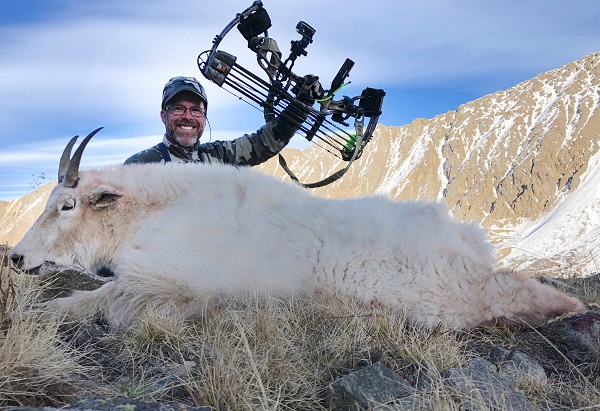 John Lusk
John Lusk is an avid bowhunter and broadhead fanatic. He has taken well over 100 big game animals with his bow all over the US, as well as Canada and South Africa. He puts his Engineering degree to use in his broadhead testing and has tested over 50 different broadheads. He has written articles in a dozen different archery publications, appeared on several hunting TV shows, and has well over a million views on his YouTube Channel: Lusk Archery Adventures. There you will find more than 70 videos of his hunts and extensive broadhead tests. When he is not shooting his bow, John serves alongside his wife as the Pastor of the Des Moines Church of Christ, in Des Moines, Iowa.