It's an issue affecting a deer stand hunters that rarely gets talked about but can be very frustrating…
It's getting your bow or gun up to you in the deer stand.
A pull-up rope or paracord is often the method of choice; tie the rope to the bow or gun and then pull it up to you in the stand. Easy enough, right?
Well, in theory, yes. But here's the problem… You stuff the rope in your pocket and when you pull it out, it's all tangled.
Stop this madness!
So, I'm going to show you how to make a tangle-free pull-up rope for your bow or gun that will easily unwind and not get tangled.
Hunting gadgets can be problematic
I bowhunt… a lot.
I used to hate having my pull-up rope tangled when I pulled it out of my pocket. There is nothing more frustrating than needing to quickly and quietly get up in your deer stand and then have to spend extra time untangling your pull-up rope.
Something had to give.
So, for years I used a gadget called a hunting hoist. It worked well enough, But, it was an extra 1-2 pounds of gear that I didn't want to be weighed down by when walking to my stand. Also, the thing stip-like nylon material made a very unnatural noise when retracting.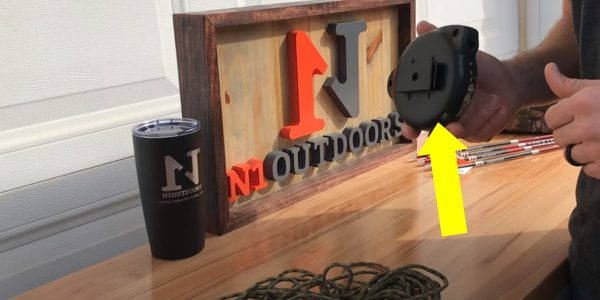 It's hard enough to kill a deer. I don't need any extra noises making it more difficult.
---
So I made another change.
---
---
#ad
---
I needed a pull-up rope for my bow that wouldn't get all knotted up
I wanted to get rid of the unwanted noise as well as the extra weight. So, here's what I use now and it works like a charm.
No tangles, no mess, and I don't have to deal with any unwanted noise.
---
---
How to make your own tangle-free pull-up rope for your bow or gun [step-by-step]
So the first thing you're going to need is some paracord. I like to use 1/8-inch paracord. It's big enough to do what I need to do, but it's also not so bulky that it can't be handled easily.
Now, I cut the paracord to 30-feet, simply because when I'm using a climbing stand, I like to climb a bit high in the tree when bowhunting. The last thing I want is to have 20 feet of this rope and climb to 25 feet in the tree and have my bow hanging 5 feet off the ground because I didn't have enough rope.
So, keep in mind how high you typically climb or how high your fixed tree stand is when making this rope.
I like to carry a waist pack to hold a few extras, like spare broadheads for the hunt, a rangefinder, a few extra lighted nocks, and some other odds and ends.
So, in this example, I'm going to show you how I incorporate that pack into making my pull-up rope.
---
#ad
---
Time needed: 2 minutes
Here's how you can make your own tangle-free pull-up rope for your bow or gun so that you can easily and quietly raise your bow or gun to your deer stand.
Tie a knot in one of the tag ends

Take one end of your paracord and tie a small overhand knot.



Put knotted end between index and middle fingers

Take the knotted end that you just tied in step 1 and put it between your index and middle fingers. This will serve as somewhat of an "anchor."



Begin the "figure 8"

With the knotted end anchored between your fingers, take the paracord and wrap it around your little finger first and then around your thumb and back around your little finger.



Continue "figure 8" to desired length.

Repeat the process from step 3 until the rope is at the desired length for what you will need to lift your bow or gun up to your tree stand height.



Remove "figure 8" rope from your hand

Once you have come to the end of your rope (pun intended), pull the it off your hand, keeping it in the same "figure 8" form it was while on your hand.



Wrap remainder of paracord around the center of the "figure 8."

Once you have removed the paracord from your fingers, take the length that is left and wrap it a few times around the center of the "figure 8" bundle of paracord.



Put paracord bundle in your hunting pack pocket

Take the neat bundle of paracord that you have and tuck it into the pocket of your hunting pack. Be sure to leave both tag ends handing out of the pocket.



Tie the non-knotted end of the paracord to the zipper or other part of the hunting pack.

Take the non-knotted end of the paracord and tie it to the zipper of the hunting pack pocket and zip shut, leaving a small opening for the knotted end to hang out.



Knotted end is ready to be pulled out of pack.

Tie the knotted end of the paracord to your gun or bow. As you are climbing the tree or ladder stand that you will hunt from, the paracord will begin to come out of your bag, TANGLE FREE!



Putting the paracord back

When your hunt is over and you have descended from the treestand, simply repeat steps 1-8 and your tangle-free pull-up rope will be all ready for your next hunt!


---
---
---
---
---
---
Conclusion
So, there you have it. A tangle-free pull-up rope for your bow or gun that will neatly stow away in your pack and easily unwind without the tangled mess.
And maybe the best part? You can do all this for a couple of dollars.
Now you can focus on harvesting a deer without getting all tangled up!