I have to hand it to Innerloc Broadheads. The Carnage mechanical head definitely a cool and innovative-looking head.
I had been wanting to test these for awhile to see if the innovation translated to stellar performance.
So, let's take a closer look at these heads.
As always, in this testing, I used my Bowtech SR6 set at 72 pounds, 27-inch draw, and a 460-grain Bishop FOC King Arrow.
Innerloc Carnage Broadheads Up Close
Now, the interesting thing about these heads is the way the blades stay together in the closed position. They don't use an O-ring (i.e. the Afflictor Hybrids). They don't use a retention clip. So, how do they keep the blades closed until deployment?
They use a sticker.
What?
That's right. A sticker.
I have to say, it's creative and different. Not only that, but they have a variety of stickers to choose from. They even have a program on their website where you can design and personalize your own sticker.
When it's in the closed position, the Carnage has nothing exposed. That's going to fly extremely well. I don't test mechanical heads for flight because they all fly really well. But for this, I imagine it's going to fly extremely well. I'd say that's probably going to be its greatest super power is its flight, in addition to its cut size.
---
---
---
---
Now, its durability and its penetration, I wasn't really sure about. So, I was eager to put this head to the test and see how it performs.
---
---
Edge Retention Testing
In the edge retention test I push paper down on the blades of the broadhead after every two strokes of the edge of an Easton Hexx Shaft. This tests how well the blade holds its edge.
Penetration testing
For the penetration test, I shout the Carnage head into ballistic gel that was fronted with a rubber mat and 1/2″ MDF board.
---
#ad
---
Cardboard penetration test
In the cardboard penetration test, I shot the Carnage into layered cardboard to see how many layers it could penetrate.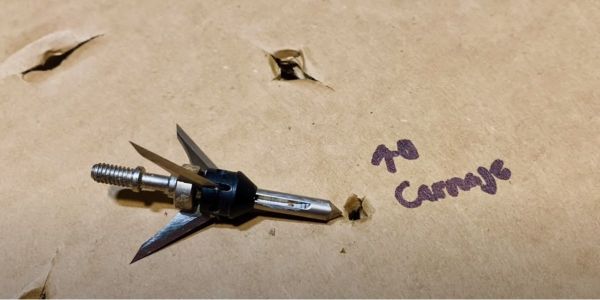 ---
---
Ballistic gel test
Because the Carnage lost a blade, I never even got to where I tested it by shooting it into MDF (up to 5 times).
---
---
---
Final thoughts on the Innerloc Carnage
So, what do you think of the Innerloc Carnage?
I will say, I thought it was pretty gimmicky at first, but it definitely has some strengths, such as its super low profile in flight, which makes it forgiving, its large cut, and its easy-open rear deploying blades.
But, it also has some weaknesses.
I question how well it's going to do on angled shots because it has such a wide flared tip without anything to really grab upon.
---
---
But, the biggest weakness is its durability. You saw what it did in the 1/2-inch of MDF when it lost a blade. I did the test again, just to be sure… this time it lost two blades. There's just an inherent flaw in that pin that holds the blades together. It just seems to be breaking in some way.
So, I know a number of people have used these heads and hey, more power to you if you really like them.
But, I'll tell you this, the Carnage is not going to make it in my quiver. But, check out the scores below and see what you think and see how it did in the areas that matter most to you.
Best of luck in your hunting adventures!
---
---
---
---
---