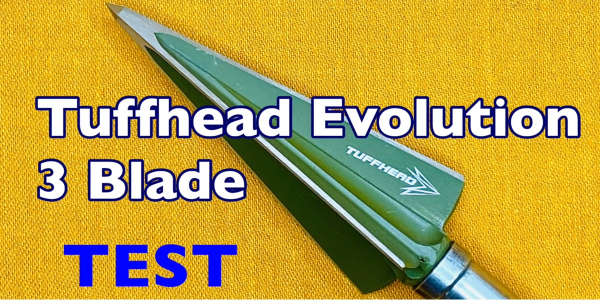 Tuff Enough? | Tuffhead Evolution 3 Broadheads Review
In this broadhead review, I put the Tuffhead 3-blade broadhead to the test.
The Evolution is Tuffhead's series of broadheads that crosses over into the compound bow market. They already have a great reputation for what they've done in the trad archery market.
Tuffhead Evolution 3 up close and personal
Below is a really good look at the broadhead close-up. The Tuffhead Evolution 3-blade has a double bevel to it. It's constructed and machined out of a single piece of S7 tool steel, which is an excellent steel to use in a broadhead application because of its incredible resistance to impact. As a result, it is super durable and its resistance to impact is many times greater than that of typical stainless steel.
This is the Tuffhead Evolution Series 3 Blade Head, which has some really unique features…
I want to note here that when I previously tested the 2-blade version of this broadhead, the tip of that head rolled over when it impacted the concrete block.
The Tuffhead owner saw that and he asked me to send the heads back, because he feared there might have been an error in the hardening process.
And, after testing them, he found that was indeed the case. The Rockwell hardness was supposed to be 55 on those heads, but in that particular batch, it was only 48.
So, when I get some more of the 2 blades, I will retest them in that hard impact test. But the 3-blade heads in this test DO have the correct hardness of 55 on the Rockwell scale.
Now, the head I tested in this test is the 200-grain model (there's also a 300-grain model).
---
---
---
The cutting diameter is 1-inch. So that's relatively small. A 1-inch cut is not going to be a very big hole but the overall goal is to maximize penetration. This head will do that by just having a 1-inch cut. But, remember, this head has 3 blades, so you're actually getting an inch-and-a-half of tissue being cut.
The blades of the Evolution 3-blade are 0.042 inches thick. The head is 2.1 inches long.
Notice here that the ferrule has a "scoop" design to the ferrule. This aids in flight as well as penetration. It also helps create a nice wound channel as it goes through an animal.
---
---
---
Tuffhead Evolution 3-Blade Testing
So I was really eager to put this head to the test and see how it performed!
40-Yard Flight Test
I shot one field point and two of the Tuffheads at 40 yards (you can see that I shot high on the field point!)
---
---
Initial Sharpness Test
The sharpness tester evaluates how much pressure it takes to cut through a wire. The initial test result was 400.
Initial sharpness test: 400.
Ballistic Gel Penetration Test
---
---
I shot the Tuffhead Evolution 3 into ballistic gel that was fronted with 1/2″ MDF and foam matting.
The Tuffhead Evolution 3 penetrated the MDF and ballistic gel 5-3/4 inches.
---
---
---
Edge Retention Test
Sharpness test result after the ballistic gel penetration test was 475.
---
---
---
Cardboard Penetration Test
I shot the Tuffhead Evolution 3-blade penetrated through 53 layers of cardboard.
---
---
Steel Plate Test
Below you can see the holes in the steel plate and you can see that they're nice triangular holes that often come with a one-piece steel head like this. So even though they're only 1-inch in cutting diameter, they are nice holes and not just three slits.
I shot the Tuffhead through a steel plate 5 times to test durability. It made nice triangular holes.
---
---
Here's the head after going through the steel plate five times. Spins perfectly through. Blades are pristine. Just no signs of wear, maybe some slight cosmetic things. But man, incredible durability.
---
---
#ad
---
Cinder Block Test
I shot the Tuffhead into a cinder block to see just how tough it really is!
Here's the Tuffhead 3 Blade after the concrete as well as after the steel plate and it's just in pristine condition. Excellent, excellent durability! Penetrated very well into the concrete and the tip is still very sharp. There was no rollover and the edges are still sharp as well.
---
---
---
---
Final Thoughts On The Tuffhead Evolution 3-Blade Heads
So what do you of the Tuffhead Evolution Series 3 Blade? Man, it performed very well.
Check out the score sheet and see how it did in the areas that matter to you the most for your hunting purposes.
But, if you are looking for a deep-penetrating super durable head, this one is definitely worth a look. I would say those are its greatest strengths.
---
---
On the weakness side, if you call it a weakness… I'm not a huge fan of really long broadheads like that because it does adversely affect flight a bit. However, they've designed this really well to help make up for some of that.
Also, the cut size is not very big for what I really like in a broadhead but that allows it to penetrate more deeply. And for a lot of people, that's what they're really looking for.
---
---
So again, check out the score sheets below and see what matters to you the most. But this head is definitely worth a look. Tuffhead has definitely made huge strides from the trad archery market to the compound bow sector. Great job, Tuffhead.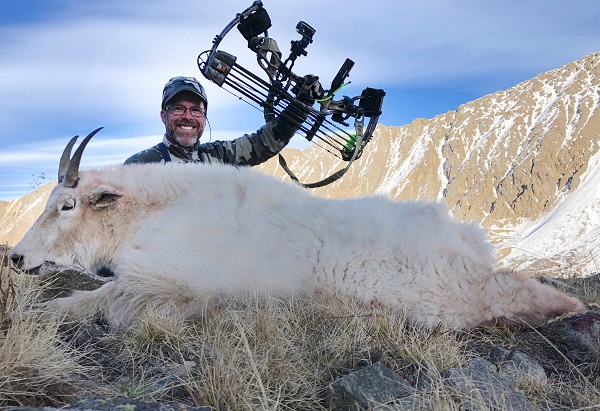 John Lusk
John Lusk is an avid bowhunter and broadhead fanatic. He has taken well over 100 big game animals with his bow all over the US, as well as Canada and South Africa. He puts his Engineering degree to use in his broadhead testing and has tested over 50 different broadheads. He has written articles in a dozen different archery publications, appeared on several hunting TV shows, and has well over a million views on his YouTube Channel: Lusk Archery Adventures. There you will find more than 70 videos of his hunts and extensive broadhead tests. When he is not shooting his bow, John serves alongside his wife as the Pastor of the Des Moines Church of Christ, in Des Moines, Iowa.