Many people have asked me to do a review of the Valkyrie broadheads, and I finally got to do it.
Many people have asked me to test this broadhead. If you have read any of my other reviews, you know that I test a lot of high quality broadheads. The Valkyrie definitely fits the bill.
Valkyrie broadheads | An overview
The Valkyrie heads are machined out of a single chunk of S7 tool steel. that is brought to a Rockwell hardness of 58 to 60 which is really hard.
Now, it's important that you don't compare that to 58 to 60 in a stainless steel, because with an S7 tool steel like this, the impact resistance is many times greater than that of stainless steel.
So, you are getting the benefit of a really hard edge and really hard blade combined with really tough impact resistance as well.
The Valkyrie is a 3-blade design. The cutting diameter is relatively low at 1 inch. But, with 3 blades, you are getting an inch-and-a-half of total cut which is a lot more than most 2-blade heads.
The heads range from 160 grains to over 300 grains (for those needing a higher forward-of-center %).
The overall purpose of the Valkyrie design is to maximize penetration. And that's why this "swept" design in the short Jag head, and in the regular-sized Jagger.
The blades of the Valkyrie heads are also completely coated with a Cerakote ceramic finish. This aids in resistance to the elements, which a tool steel typically does not have. It also provides a less of a glare and it aids in penetration, to give it a bit more smoothness through bone, tissue and hide.
---
---
#ad
---
The Setup
For this test, I'm used my Bowtech SR6 set at 72 pounds and I'm using the whole Valkyrie system pictured below. It comes with VAP arrows 0.166 diameter and with their titanium centerpin and the broadhead. The arrows even have their own fletching.
Valkyrie testing
I was very eager to test these heads. They looked like they would penetrate well. They also spun very true and looked and felt very sharp. I also wanted to test for long-range flight, edge retention, penetration and durability. So let's get to the results…
---
#ad
---
Sharpness test
To test the sharpness of the Valkyrie Jagger, I examined its ability to cut paper not only out of the box, but also after up to five strokes of the arrow shaft against the blade edge.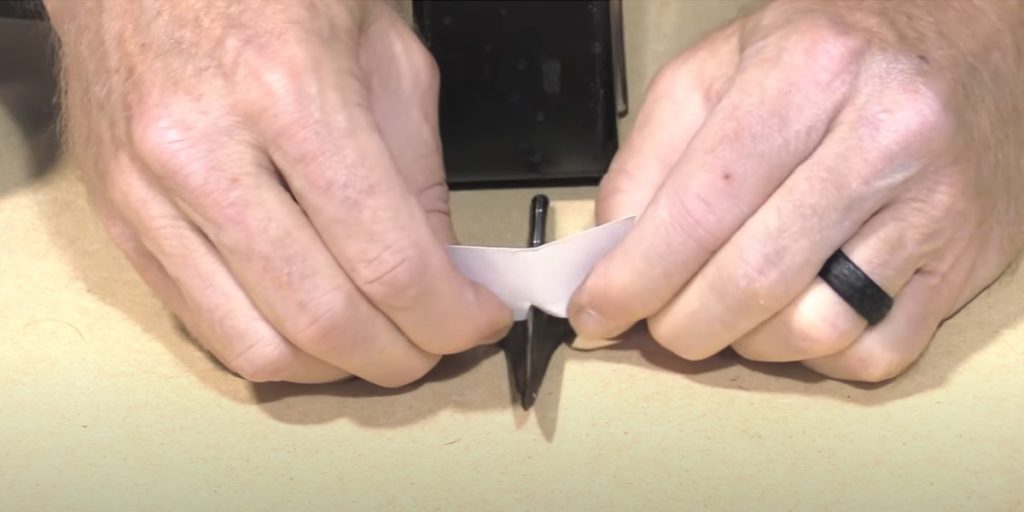 You can learn more about the Valkyrie arrow system by visiting their website, valkyriearchery.com.
Long Range Flight | Balloon test
---
---
Penetration testing
In the ballistic gel test, the short Jag penetrated 8 inches.
In the steel plate penetration test below, notice the holes that the Valkyrie heads make. They are not just slits, they really put those nice triangular holes in the steel plate.
And, I will note too that it's fairly easy to sharpen. When I'm sharpening it, I use a paper wheel. You can use whatever you want or you can just mail it back in. They actually sharpen them or will even repair them if they need repair… all for free. ($10 shipping and handling to send the head in).
---
---
---
Final Thoughts
So what do you think of the Valkyrie? I've got to tell you, I was impressed. I was expecting quite a bit from these broadheads and I have to say, they exceeded even my high expectations.
This is one very well-designed, very well-constructed broadhead.
If you are looking for something that's high quality that's going to last you forever and that you can use on anything in the world, this is a head worth checking out.
Overall, the Valkyrie is just an incredible head, well-worth checking out especially if you are going after a really big-bodied animal. This is something that is really worth investigating.
Great job, Valkyrie.
Best of luck on your next bow hunt!
(Be sure to visit our deer hunting tips page to get ready for the upcoming season!)