By the time I was old enough to say the word "fish," my Dad was taking me fishing with him (yes, that's us in the picture above).
And, those trips with Dad turned out to be much more than fishing lessons.
Fishing lessons = life lessons
Fishing was always something I considered fun. I loved the challenge of casting in just the right spot. I loved the feel of that first tug on the line. And, of course, who doesn't love reeling in fish?
As I've gotten older, those memories of going fishing as a kid with my Dad have become even more special. That time with Dad doing a fun activity has impacted me in profound ways.
You see, he was teaching me about fish, different fish species, how to catch and clean them, and how to tie fishing knots. But, I ended up learning principles that have become foundational in how I try to live my life, conduct business and relate with my own family.
Memories of fishing with Dad have become even more special as the years have gone by. Those times have impacted me in profound ways.
Lesson #1: Good things don't always come to those who wait
It's no secret that fishing is a great way of learning patience. As a kid, if that bobber didn't go under soon after I casted, I wanted to throw to another spot! Dad would tell me to be patient and just wait.
Of course, many times, my patience paid off and the fish would bite. But, I learned something else that was maybe even more important than patience.
Sometimes, it didn't matter that we had a great fishing spot (no, I'm not telling you where). It didn't matter what bait we were using. And it didn't matter how long I waited. The fish just weren't going to bite.
There's more than just a fishing lesson here.
---
---
When you know things don't go your way, will you do the right thing anyway?
Sometimes you can give your best effort. You can do all the right things. You can even be extremely patient… and still not get the result you wanted.
That's called life.
The question is, when you know you won't get the result you were hoping for, will you do the right things anyway?
It's a difficult question to answer and it's even tougher to do. I'm thankful that there were times when the fish didn't bite, so I could learn that lesson.
---
---
---
Lesson #2: You don't drift back where you started
I loved going to the spot my Dad and I used to fish (no, I'm still not telling you where). There were just so many places along that creek bank to catch fish.
As I got older and graduated from the red and white round bobber (I still love it though), I would cast my lure to what looked like the perfect spot. Sometimes I'd catch fish, and of course, sometimes I wouldn't.
But, there just always seemed like a better place ahead to try.
Fishing with Dad has taught me to be intentional about making sure I don't drift too far from where I should be.
So, I walked a few steps and casted. Then I walked a few more and casted. Before long, I'd look back and realize that I had wandered far from where I first started. I was lost in the moment and couldn't believe how far I'd gone.
I have learned that life provides you with many opportunities to "drift" in a similar way. Something catches your attention and you chase it. After all, it seems like such a great opportunity.
Now, let me say here that I'm all about dreaming big and giving things your all. But, sometimes we are prone to chasing dreams at all costs. We sacrifice precious time with family and friends for the sake things that leave us empty in the end.
I'm learning that I don't want to be that guy.
---
---
I've learned you have to be intentional about making sure you don't drift too far from where you should be. You have to surround yourself with people who will tell you the truth about yourself, good or bad.
And, you have to be willing to heed wise advice, even when it's what you don't want to hear. In doing so, you can prevent yourself from drifting too far from where you should be and save yourself a lot of heartache and from hurting those you love.
Going fishing with Dad is still helping me learn these lessons many years later.
---
---
Lesson #3: When you catch a big one… celebrate!
Catching fish is fun, no matter what size the fish. But, I'd be lying if I said catching a big fish isn't just a little more fun! It's amazing how just about anyone can muster up a big smile after they reel in a heavyweight. It makes the fun just a little more fun to celebrate.
Life gives us many reasons to be sad or upset. After all, bad things happen to good people. But, good things also happen to good people. So, just like when you catch a big fish, be sure to celebrate the good times in life!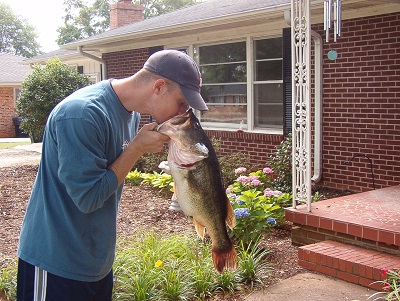 Good times, like good fish, should be celebrated.
---
---
Lessson #4: Always be prepared
Call me a neat freak or obsessive compulsive, but I hate a messy tackle box. The fishing supplies have to be organized.
The night before I knew we were going fishing, I would always be certain that all my fish hooks, fishing lures and supplies were neatly tucked away in their designated compartment. (Of course, after a day of fishing, they were right back to being unorganized!)
But, as orderly as I wanted things, I learned there's one thing a neat tackle box can't help you with… and that's not having enough of the lure you need for that fishing trip.
---
---
Sometimes on a particular day, the fish just like what they like and nothing else. Hopefully, they like what you have in your tackle box. And, hopefully you have enough of it!
Don't get me wrong, this is not about neat people being better than messy people. But, I've learned that doing your due diligence ahead of time is better than being unprepared.
---
---
This applies to just about anything. Of course, you can't predict the future, and sometimes unexpected things can happen no matter how much you prepare.
But, just like with fishing, be as prepared as you can possibly be in all situations. Something BIG just might happen!
Lesson #5: Control what you can control
When I was first learning to fish with Dad, I started with live bait and a fishing bobber. I would watch the bobber intently, hoping to see just the slightest movement or ripple in the water.
But, I am a competitor at heart, and sometimes I would sneak a peek over at my Dad's bobber. It seemed that every time I did that, I would look back and mine would be nowhere to be found, with a fish on the line! (I guess if the fish aren't biting, this is a viable strategy. But, I digress).
I have learned to focus on things that I can control, and not on those I can't.
It's easy for us to get distracted sometimes. We worry about what others are doing. We worry what they think of us. And, we try to fix others and make them who we think they should be.
The problem is that when we do that, we put our focus on things we can't control.
As I get older, I am learning that I can do very little to change other people. I can't become exactly like someone else. God made one of me (and one of you).
---
---
---
And, while it's great to have role models and aspire to be strong in areas that others are, we must understand that we are uniquely made. We are custom designed. There will never be another one exactly like us.
So, don't excuse your weaknesses. Work on them. But, also work to become better at your strengths. You will make much more progress on you than you ever will by trying to change others. And, who knows, you might inspire someone else to be a better them!
The life lessons learned fishing with Dad, I want to share with others.
Don't let the lessons end
With all the life lessons I've learned from fishing lessons with my Dad, it would be a shame to keep them all to myself. I am inspired to use teachable moments like these in the outdoors to impact the lives of my kids as well. I hope you do the same.
So, whether you hunt, fish, or just love being in the outdoors, there are so many great lessons to be learned in the simplicity and wonder of the outdoors.
Oh, and Dad… thanks for taking me fishing.
---
---